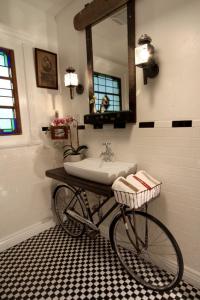 Whimsical Bicycle Vanity

by Allison on November 15, 2011 in Eclectic Bath

Tossed and found items are repurposed into novel ideas.

Artist Benjamin Bullins gives the old saying "one man's trash is another man's treasure" an entirely new meaning. Taking inspiration for a single object, he then uses other materials to build a sculpture that reflects the culture of his hometown of New Orleans. Often his work is functional art, like this French themed bathroom vanity designed around a discarded bicycle. A sleek, contemporary sink rests on a wooden board and is paired with a vintage single-hole faucet – love the porcelain drop handles. The basket is perfect for hand towels. The black and white checked floor tile pattern mimics checkered flags used when the winner of a race crosses the finish line – keeping with the room's theme, since one origin theory claims the flags were first used in French 19th century bicycle races.

Artistic Benjamin Bullins...